The San Antonio Jewish Film Festival and the Austin Jewish Film Festival are proud to co-present the 2023 Summer Series from May 28—September 3, featuring eight great new films and bonus content such as exclusive interviews with the filmmakers to keep you entertained all summer! In honor of Israel's 75th birthday, all films in this year's Summer Series are Israeli, and for most of these films this will be their Texas premiere.
You may purchase tickets to individual films for $15 each (all fees included) or a Summer Series Pass to all movies for just $85 (all fees included). Another option is to buy an AJFF365 Subscription, which will give you free access to all of these movies plus all other AJFF365 events for a full twelve months.
Films, passes, and subscriptions are available to Texas residents—films are geo-blocked to Texas. If you are a Texas resident and will be traveling out of state during the summer, you may email info@AustinJFF.org and request that we modify your access while you are traveling.
This year, buy a Summer Series Pass or become an AJFF365 Subscriber, and you'll receive a FREE summer-long subscription through September 3rd to ChaiFlicks, the best Jewish and Israeli streaming service. With more than 1,700 shows and films, including the superb new Israeli series The Lesson, you'll have a wealth of content to entertain you all summer long.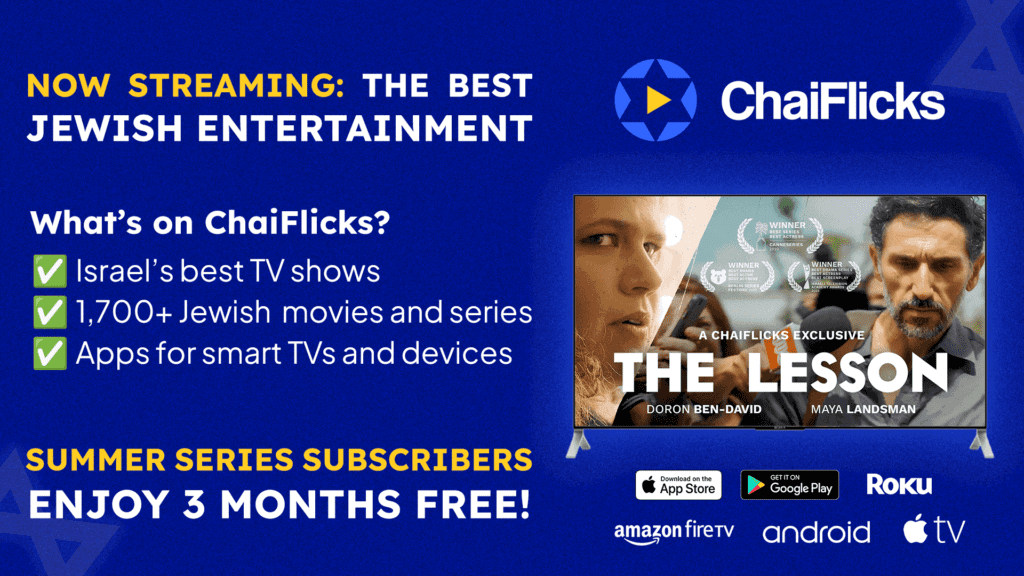 Pass holders and AJFF365 Subscribers will be sent a discount code that gets them FREE access to ChaiFlicks through September 3rd— the sooner you buy your Pass or become an AJFF365 Subscriber, the sooner you can start watching any of the 1,700 movies and series!
To purchase individual film tickets, go to the film's webpage by clicking the film image or title below. To buy a Summer Series Pass or an AJFF365 Subscription, use the links below.
The Summer Series begins May 28th and goes through September 3rd with each film playing for a two-week period. Once you begin watching a title, you'll have 72 hours to complete your viewing. All films will play virtually, and can be watched on a TV, computer, tablet, or phone.
Note: Holy Wine will additionally have an in-person screening and wine-tasting reception in Austin in the Gloria and Harvey Evans Performance Center at Shalom Austin on August 20th. The in-person event is NOT included in the Summer Series Pass, but separate tickets are available for this program. The in-person event is included in the AJFF365 Subscription.
A young filmmaker teaching a workshop in a community center puts cameras into the hands of
eight women, Arab and Jewish, and asks them to film their lives.
As they share their footage, barriers are broken down, beliefs are challenged, and the women learn
more about each other… and themselves.
Two men sit at a popular café in Tel Aviv. Moments later, they open fire on the shocked diners around them. One customer fights back. Others run to safety. No one escapes unharmed. Closed Circuit documents the infamous terrorist attack at Sarona Market with raw footage from security cameras and riveting interviews with survivors.
Avihu is a controversial TV host,  back from suspension in the height of the prime-minster election campaign. The leading candidate is his former beloved pupil and the son of the former prime minster, who is keeping silent. He isn't the only one who is silent—Avihu's mother miraculously stopped talking. Caught in the whirlwind of their silence, Avihu is on a path to his own reckoning.
Jimmy and Elik meet while serving in the army. He's an overweight
corporal and she's a beautiful officer, but something works between them.
They meet again over the years. He wants her, but she rejects him. Only in their 30's, after a few of life's lessons, they start being friends… Until love gets in the way.
A hybrid docudrama film that follows Israeli diplomat Asher Naim on a seemingly insurmountable mission to bring 15,000 Ethiopian Jews to Israel. As Asher learns more about these African Jews, he finds himself between worlds and facing a crisis of faith in himself and his country. The docudrama follows the behind-the-scenes politics leading up to Operation Solomon—the two-day airlift in May 1991 pulled off in the climactic chaos of the Ethiopian Civil War.
From the perspective of Israeli biracial kids, BROWNWHITE explores how skin color influences the development of identity. Weaving their lived experiences with findings from academic research, the film reveals these kids' dilemmas around identity in a world that's more complicated than brown or white.
11 minute short playing with Exodus '91.
Three very different shipping containers are mistakenly mixed up, resulting in a scramble to find the correct trailer. Johnny Saloniki, the innocent son of a mafiosa, is pulled into the family business to find the missing trailers before time runs out. HUMMUS FULL TRAILER is a colorful and hilarious look at how a couple of Arabs, Gay florists and orthodox Jews discover each other's secrets, all while trying to keep a wedding on track, hitmen away, and flowers alive.
Filmmaker Snow R. Shai interviews the crème de la crème of Israel's winemakers, and the Israeli wine industry is revealed in all its glory with something to be learned by even the most ardent oenophile. The second part of the film covers the dilemmas of kosher wine production in Israel. Like Israel as a whole, this film reveals that even wine can be a complex topic.