GET READY TO FEST! AJFF 2020 November 7-13.
Drive-in tickets now on sale for Opening and Closing nights. Get yours before they're gone!
Become a Member – get valuable benefits and help support AJFF.
Virtual Festival Passes now on sale – watch over 70 films throughout the festival week.
Full film guide now online.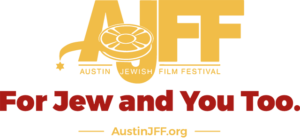 Chai – How Are You?
Get Ready for the 18th Annual Austin Jewish Film Festival in