Learn about the 2022 Festival
The 20th annual Austin Jewish Film Festival will be like no other! 
In-person screenings will take place on the Dell Jewish Community Campus between November 3 and 13,  followed by showings of most feature films and a large number of short movies from November 14 – 20, allowing you to enjoy it your way—in person or online. 
We've curated the latest and greatest Jewish and Israeli films for your enjoyment, including US Premiere films for opening and closing nights with visiting filmmakers.  There will be a bunch of other talent too, coming from around the world to Austin to present their films. We'll also have pre-recorded Q&As with directors for the rest of the movies. Plus there will be three fun receptions for you to enjoy with food, drink, and music all included.
Being on the Dell Jewish Community Campus brings a number of significant benefits:
Convenient community location with abundant free parking and enhanced security.
Two different screens, offering a choice of films in most timeslots.
Many films will be available at two different times (so you can see more movies!)
New, comfortable stadium-like seating in the renovated Shalom Austin Community Hall (now the Epstein Family Community Hall / Gloria & Harvey Evans Performance Center.)
Brand new audio-visual equipment donated by AJFF in the Epstein Family Community Hall / Gloria & Harvey Evans Performance Center at Shalom Austin.
Additional screen at Congregation Agudas Achim.
On-site parties for opening and closing nights and our November 6th event at Temple Beth Shalom.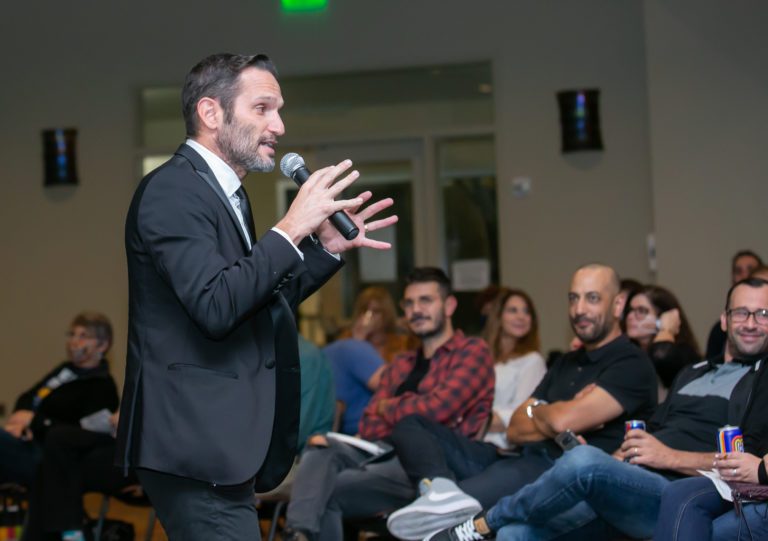 If you purchase a pass or membership, you will pick up your pass from our on-site Box Office at Shalom Austin at the first event you attend.  The Box Office will be open on the same days as the festival.
tickets to individual films
Tickets for individual showtimes, including online events, are available from the film pages, accessible from our new and greatly improved online event guide.
If you plan to get tickets to individual events, please purchase these on line in advance.  You will save yourself $2 per ticket and having your ticket in advance greatly speeds your entrance on to the campus.