HOW MEMBERS OF THE PRESS CAN COVER AJFF:
If you are interested in attending this year's Austin Jewish Film Festival as press to cover our films, please contact Kristen O'Brien (press@austinjff.org) to make arrangements in advance.
2019 MEDIA COVERAGE
Click here for a listing of the 2019 Media Coverage
IMAGES
To request photos from this years' films, poster artwork, and screening links and for interview requests with the filmmakers or organizers of the festival, please contact Kristen O'Brien (press@austinjff.org).
FIND US ON:
Press Release: AUSTIN JEWISH FILM FESTIVAL REVEALS FILM LINEUP FOR 17TH ANNIVERSARY
Click here to download this press release from September 18, 2019.
AJFF One Pager
The seventeenth season of the Austin Jewish Film Festival (AJFF) opens with a party followed by a film at Austin's Long Center for the Performing Arts in the Rollins Studio Theater.
AJFF is not just about excellent films. We seek to expand the Jewish conversation and make cross-cultural alliances throughout our world-class city, Austin, Texas. We are building bridges throughout our community with thoughtful engagement and entertaining our audiences through Jewish films. 
This year AJFF is significantly expanding its outreach with an exciting new marketing campaign: "For Jew and You Too,", created by Norbi Zylberberg (Socialisssima.com) together with Natasha Louckevitch (cpurpose.com), and multiple worldwide partners. 
The festival is directed by long time volunteers Cynthia Winer and David Finkel. Contact dfinkel@austinjff.org
The full schedule, film details include trailers, as we as tickets and passes are available at AustinJFF.org
A new AJFF Monthly Film Series in partnership with Shalom Austin is coming in early 2020.
Click here to download the AJFF One Pager PDF.
AJFF Logo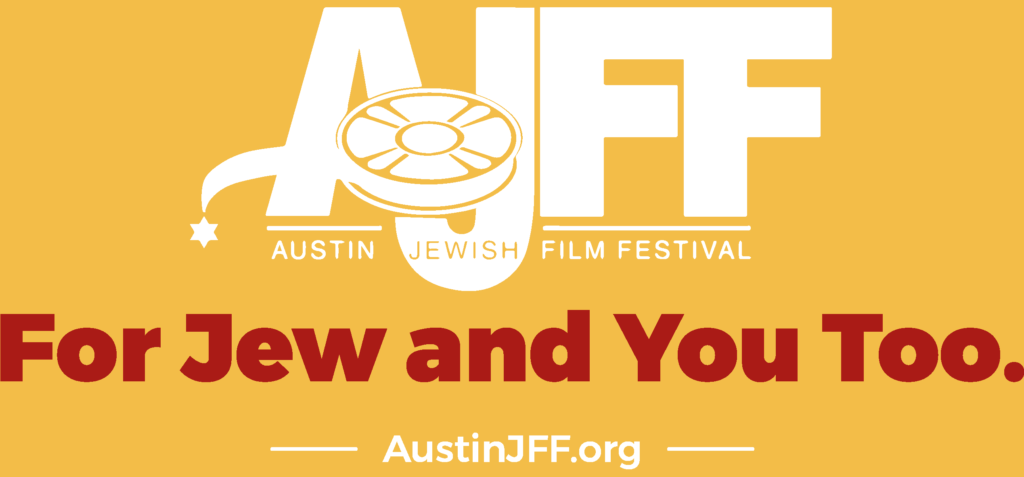 Click here to download a compressed folder with the AJFF logo in multiple formats.