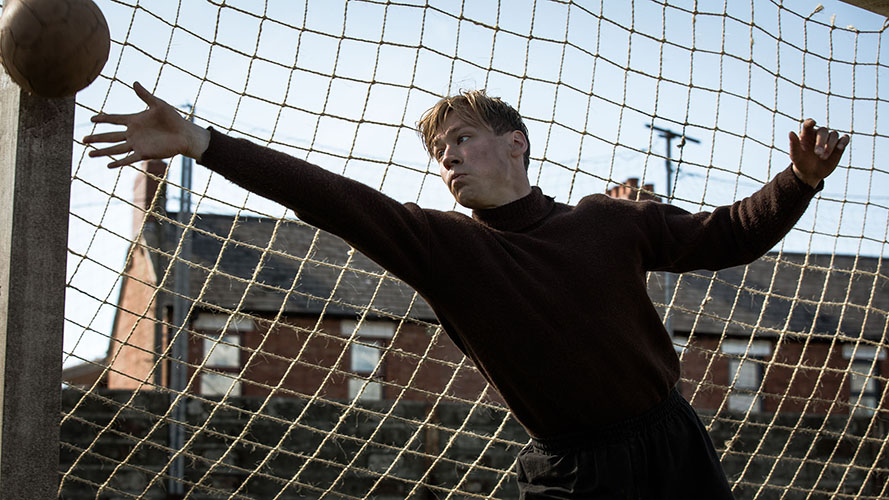 The Keeper
OPENING NIGHT EVENT
The 17th season of the AJFF opens with a party followed by "The Keeper" at Austin's Long Center for the Performing Arts in the Rollins Studio Theater. We're thrilled to be downtown in this amazing space for Opening Night with nosh catered by John Sutton, music provided by guitarist Dan Bekker, and a cash bar.
Tickets are just $36 for the party and film.
(Does not include parking – $8/car)
FESTIVAL BADGE and FLEX PASS holders will receive instructions on how to obtain their tickets at no additional cost for this event in their confirmation emails.
"The true story of Bert Trautmann, the German who played for Manchester City after the second world war, is a heartfelt blend of romance and football." (The Guardian)
A young man in Nazi Germany, Bert Trautmann is recruited as a soldier and captured by the British in 1944. While in a prisoner-of-war camp, his soccer skills attract the attention of both the local football (soccer) club's manager and his daughter, Margaret. The manager gets Trautmann out of the camp to play for his team. The nearby Manchester City Football Club (a premier British soccer team) notices Trautmann's goal-keeping skills and, as the war ends, gets him to sign up. That move causes outrage among thousands of Manchester City fans, many of them Jewish. But Trautmann's new wife, Margaret, wins unexpected support from a rabbi who had fled the Nazis. Trautmann goes on to overcome racism, public hostility and personal tragedy with a triumphant rise to success with Manchester City, famously playing the end of the 1956 Football Association Championship Cup Final with a broken neck.
Showtime:
A film introduction and trailers will be presented prior to each screening.
Last-minute schedule changes happen.
Director
Marcus H. Rosenmüller
Language
English, German (with subtitles)
Rating
Contains Mature Contains Mature Language & Mature Themes