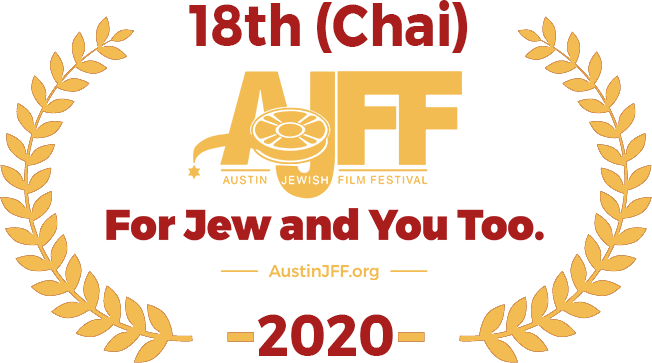 The 18th annual Austin Jewish Film Festival will be like no other! The number 18 is equivalent to chai, or "life" in Hebrew. What better way to affirm life than with a safe, vibrant expression of Jewish culture, even in the midst of a pandemic? The festival will consist of a safe, socially-distanced drive-in event for opening night, followed by a plethora of films and Q&A events in our Virtual Film Festival week, and capped off by a final drive-in event for closing night.
We have way MORE films than ever—this year we're not limited by theater showtimes. Tons of films to see at any time of night or day. In addition to the kind of films you've come to know and love us for, we've also added new, edgier films, and we've brought back some of your favorite movies from previous years as Best of The Fest Past. You're sure to be spoiled for choice!
Note: The Printed Program Guide only has the films and events that were confirmed as of press date in mid September. The Online Film Guide had the complete, current list of events.
DRIVE-IN TICKETS ON SALE NOW!
You won't want to miss our opening night and closing night drive-in events, where the films are just the start of the experience. You'll enjoy food, pre-film entertainment including live music, a top quality family-friendly film for opening night, plus a post screening Q&A. You're going to remember this event for a long time!
For many in our audience, drive-ins will bring back pleasant memories; for others this will be a totally new experience. But, this is unlike the drive-in theaters of old. We'll have a big screen set up with audio delivered via FM broadcast, so you use your car's radio to listen with high quality sound. And we'll be using the whole setup to provide fun, interactive entertainment before the feature starts, as well as a live Q&A with the filmmakers following the feature.
Thanks to our close partnership with Shalom Austin, the drive-in events will be on the campus of the Dell Jewish Community center on opening night (Saturday, November 7) and closing night (Thursday, November 12). Available spaces are strictly limited, so be sure to book early because these tickets are expected to sell out fast.
Drive-in tickets work differently than any other events we've had before. The basic drive-in ticket includes entry for your vehicle and two passengers. Each additional passenger requires their own add-on ticket, which includes their food and entertainment.
Everyone in attendance is required to have a drive-in ticket obtained in advance, printed and presented to security upon entrance to the campus. Entry tickets will not be sold on site. Higher level members can get free drive-in tickets as part of their benefits package upon request.
Your safety is paramount to us, so this will be a safe, socially-distanced event. You'll be required to stay in your car and remain parked until the event is finished. But don't worry, we have restrooms and we'll have a specific process for ensuring safe access when you need them.
See the policies page for additional details.
FESTIVAL PASSES ON SALE NOW!
Think of our Virtual Festival as kind of private Jewish Netflix for the entire festival period, now November 7-20, but with the latest and greatest content you'll only be able to see here. We have way more films than ever before, including a much wider variety of content. We're also bringing back some of your favorite films from festivals past. They'll even be a few free films!
What's super cool is that you're in control—watch what you want, on the device you want, when you want during the entire festival week. Participate in live Q&As with filmmakers, or watch them later on our Vimeo channel.
Tickets will be available for individual films beginning November 1, but we think you'll agree that our Virtual Festival Pass, with access to ALL virtual films and Q&As represents a fantastic value and is the most convenient option for most people. Virtual Festival Passes provide a discount on drive-in tickets. For even more benefits, consider becoming a member now, which also helps financially supports the festival.
Passes and tickets are offered with sliding-scale pricing. This means that there are different options for what price you pay, but no matter which you choose, each Pass or ticket has the exact same access. Please read the guidance on sliding scale pricing for which option you should choose.
AJFF has licensed one of the top Video On Demand platforms to deliver our festival, which will ensure the best viewing experience for everyone. This includes the option to watch on your phone, tablet, computer, or TV. See our how to watch page for details on how this works.
For additional details, see the policies page.
INDIVIDUAL TICKETS ON SALE NOVEMBER 1
Individual tickets will be available from each film's page on this site. See the film guide for a listing of all films.